ABOUT
US
Jacaré Martial Arts co-founder Ronaldo Souza dos Santos a.k.a Jacaré, has dedicated his life to training martial arts, winning at the highest level of competition, and helping enrich others' lives through Martial Arts. He is one of the most successful submission grapplers and MMA fighters of all time.
He is an eight-time World Jiu-Jitsu Champion, including gold medals in the Open weight class in 2003, 2004, and 2005. His other accomplishments include the 2005 77–87 kg ADCC Championship title and the 2005 ADCC Absolute Division runner-up. Furthermore, he won titles at the UFC, Strikeforce, DREAM, and more. Along with Roger Gracie and Marcelo Garcia, Jacaré is widely considered to be among the most outstanding BJJ practitioners of his time.
Origins
The grappling phenom was born December 7, 1979, in Vila Velha, Brazil, and raised in Cariacica, Brazil. Jacaré had a challenging upbringing, and on his 15th birthday saw one of his good friends get shot and killed. After this tragic event, Jacaré's mother moved him to Manaus in the Amazon to go and live with his brother, where he started training Judo and Brazilian jiu-jitsu (BJJ). He was 17 when he began his Martial Arts Journey.
Ronaldo would meet his new master, Henrique Machado, at this time. Machado, a BJJ black belt under Osvaldo Alves and also a 5th dan in Judo, immediately saw the potential in this young 50kg kid and decided to train him to become a world champion. Henrique took him under his wing, teaching him the Gentle Art and the right nutrition plan every day, all while preparing him mentally for the rigors of competition.
More Than A Fighter, A Conqueror
His journey in Jiu-Jitsu and Judo was not easy at first due to having ADHD, Dyslexia, and Dyspraxia, which according to Jacaré, made him a little clumsy at first.
He is quoted saying:
"With ADHD, Dyslexia, and Dyspraxia, life was a challenge for me at times growing up, but then I started training Jiu-Jitsu, and everything changed.
I was clumsy at first, and my attention was not fully there. I had problems with sequencing and following instructions, but with time Jiu-Jitsu gave me better focus, the ability to better process emotions and self control, and the motor skills to quite literally become a multiple-time world champion.
I have seen and experienced how Martial Arts helps kids and adults like myself and my son, who is also dyslexic. This is what I truly believe: that Jiu-Jitsu can change a person's life and elevate them to heights they never imagined possible." – Jacaré
Journey To Success
This master/student relationship began when Henrique invited Jacaré to train Jiu-Jitsu after seeing him play soccer on the streets. After getting tapped in his first BJJ class, Souza's competitive mindset sparked, and he returned the next day hungry to learn.
After winning several state championships in the lower belts, Jacare's rise to fame rose with the 2003 IBJJF World Championships Brown Belt Division, in which Jacaré won his weight division and the absolute, submitting all but one fighter. The same year, Jacare Souza was awarded his Black Belt at the hands of Master Machado. Today he is a black belt both in Jiu-Jitsu and Judo.
In 2003 Jacaré started his MMA career against the very experienced Jorge Patino; he lost the fight but learned immensely from the experience. In 2004 Jacaré went to the World Championships as a black belt. The talent on the mats he showcased the previous year already gave him a certain star status, with the media classifying him as one of the favorites to win. Souza that year won the most prestigious gold medal in Brazilian Jiu-Jitsu (BJJ), the Mundial Absolute (Open Weight) Division, taking the final bout against his longtime rival Roger Gracie despite a major arm injury due to an armbar from Roger halfway through the match. It was a fight for the ages! Despite the hyperextended ligaments and dislocated elbow, Jacaré said, "it had all been more than worth it!"
2005 was another exceptional year for Jacaré, winning the ADCC in his weight division (87kg) and placing second in the absolute, losing only to Roger Gracie. To top off the year, he also exceeded his success in 2004 at the World Brazilian Jiu-Jitsu Championships taking home double gold in his weight class (medium heavy) and the absolute black belt division.
Jacaré then decided to tackle MMA once again, and with impressive results! In April 2006, at Jungle Fight 6, he got his second win, defeating Alexander Shlemenko by an arm-triangle choke submission. He went on to fight twice before the end of 2006, winning both fights by submission during the first round.
Later in 2006, Souza fought UFC Hall of Famer Randy Couture in a grappling contest which ended in a draw. After the match, Couture invited Jacaré to train at his gym, Xtreme Couture in Las Vegas, which he accepted. Souza's first fight of 2007 started out strong, with him scoring a submission win due to strikes over veteran Bill Vucick at Gracie Fighting Championships: Evolution. Later that year, within a two-week period, he scored two additional submission wins on September 29 and October 13, both within the first round.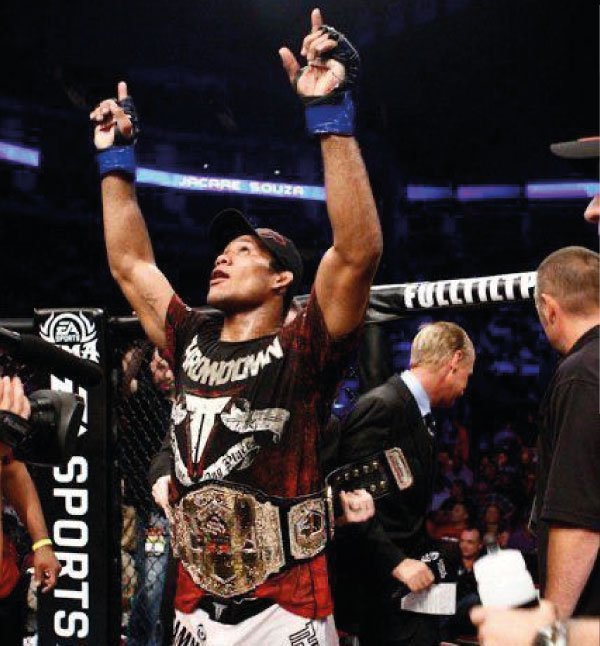 Strikeforce
Jacaré took a little break from MMA to make one incursion in the super fight of ADCC (2009) against Robert Drysdale, a match he won decisively by points but returned to his MMA training straight after. In 2010 he grasped his first MMA belt after defeating Tim Kennedy for the Strikeforce Middleweight Title, a Major accomplishment! He then defended the belt for the first time against Robbie Lawler, on January 29, 2011, at Strikeforce: Diaz vs. Cyborg.
On March 3, 2012, Souza made his sixth Strikeforce appearance against late replacement Bristol Marunde. Souza won via arm-triangle choke, submitting Marunde at 2:43 of the final round.
Lastly, Souza faced UFC veteran Ed Herman at the final Strikeforce card, with Marquardt vs. Saffiedine, on January 12, 2013. Per Jacaré style, he won via submission in the first round.
DREAM
In 2008, Souza signed with Japanese MMA-promotion DREAM and was scheduled to participate in the 2008 DREAM Middleweight Grand-Prix. A huge step up for the MMA prodigy. In the first round of the Grand-Prix, at DREAM 2 on April 29, 2008, he beat Ian Murphy with a rear-naked choke submission in the first round. This win secured him a place in the quarter-finals which took place at DREAM 4 on June 15 where he went up against former ICON Sport Middleweight Champion Jason "Mayhem" Miller.
The fight went the distance with Jacaré constantly striving for submissions with Miller escaping multiple leglock, armbar, and rear-naked choke-attempts while mounting his own offense from standing. Jacaré was awarded a victory by unanimous decision which secured him a place in the semi-final of the Middleweight Grand-Prix.
In the semi-finals, Souza defeated Zelg Galesic early in the first round by armbar submission which took place at DREAM 6 on September 23. The victory earned him a shot at the DREAM Middleweight Championship against Gegard Mousasi that same night, which he more than accepted. Souza also fought in the DREAM Middleweight Championship in a rematch with Jason Miller at DREAM 9. The fight was ultimately called a no contest due to an illegal kick to the head that created an impressive gash on Souza's head.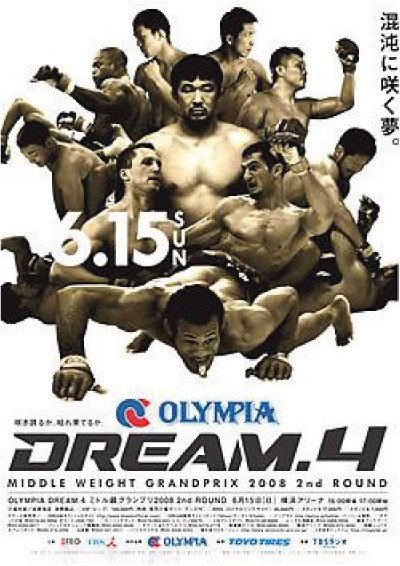 2013
2013
Jacare signed a five-fight deal with the UFC. Souza arm-triangle choked Chris Camozzi unconscious in the first round of his UFC debut. Souza next knocked out Yushin Okami in the first round on September 4, 2013, at UFC Fight Night 28.
2014
2014
Souza beat Francis Carmont by unanimous decision at UFC Fight Night 36. At UFC Fight Night 50. Souza won via submission against Gegard Mousasi in the third round, earning his first Performance of the Night bonus award.
2015
2015
Despite jacaré and Yoel Romero not being able to compete after the second rescheduling, Souza instead rematched returning veteran Chris Camozzi, submitting him with a first-round armbar. However, the bout with Romero was scheduled for a third time, eventually taking place at UFC 194. Souza lost the bout via split decision.
2016
2016
Souza faced Vitor Belfort on May 14, 2016, at UFC 198. He won the match via TKO in the first round and was awarded the Performance of the Night bonus.
2017
2017
Souza faced Tim Boetsch at UFC 208. He won the fight via submission in the first round. The win also earned Souza his third Performance of the Night bonus award. Later in 2017, Souza fought Robert Whittaker at UFC on Fox 24. He unfortunately lost by second-round TKO. During the event weekend, Souza signed a new, eight-fight deal with UFC.
2018
2018
A rematch with Derek Brunson took place on January 27, 2018, in the main event at UFC on Fox 27. Souza took home the fight via TKO in the first round. This win earned him the Performance of the Night bonus, his 4th. Later in May Souza faced Kelvin Gastelum at UFC 224. He lost the fight via split decision. The fight also received Fight of the Night honors. Additionally, Souza was expected to face David Branch on November 3, 2018, at UFC 230. However, on October 19, 2018, It was reported that Souza replaced injured Luke Rockhold to face Chris Weidman in the event. He won the fight via knockout in the third round. Both fighters earned Fight of the Night honors.
2019
2019
Souza was scheduled to face Yoel Romero on April 27, 2019, at UFC on ESPN 3. However, it was reported in early April that Romero pulled out of the bout due to illness. Souza remained on the card and faced Jack Hermansson in the main event at UFC Fight Night: Jacaré vs. Hermansson. Souza interestingly moved up to the Light Heavyweight division and faced Jan Błachowicz on November 16, 2019, at UFC Fight Night 164. He would lose the fight by split decision.
2020
2020
Souza was scheduled to face Uriah Hall for a middleweight bout on April 18, 2020, at UFC 249. However, on April 9, Dana White, the president of UFC announced that this event was postponed, and the bout and event were rescheduled for May 9, 2020. On May 8, Souza had to withdraw from the fight after testing positive for COVID-19. Souza was expected to face Marvin Vettori on December 12, 2020, at UFC 256. However, the bout was scrapped when it was revealed Vettori would be serving as a late replacement to face Jack Hermansson at UFC on ESPN 19 and Souza instead faced Kevin Holland.
2021
2021
Souza faced André Muniz on May 15, 2021, at UFC 262. He lost the fight via technical submission in the first round after his arm snapped while trapped in an armbar. Souza underwent surgery to repair his right humerus. On August 10, 2021, Souza announced that he was retiring from MMA, hinting at a return to BJJ. Check out his Wikipedia page here: https://en.wikipedia.org/wiki/Ronaldo_Souza
ADCC
ADCC Submission Wrestling World Championship:
ADCC 2011 Superfight Runner-up (against Braulio Estima)
ADCC 2009 Superfight Champion (against Robert Drysdale)
ADCC 2005 77 – 87 kg: 1st Place
ADCC 2005 Openweight: 2nd Place
ADCC 2003 77 – 87 kg: 2nd Place
ADCC 2003 Brazilian Qualifiers 77 – 87 kg: 1st Place
IBJJF World Championships
2005 Black Belt Medium Heavy: 1st Place
2005 Black Belt Open Weight: 1st Place
2004 Black Belt Medium Heavy: 2nd Place
2004 Black Belt Open Weight: 1st Place
2003 Brown Belt Medium Heavy: 1st Place
2003 Brown Belt Open Weight: 1st Place
2002 Brown Belt Medium Heavy: 1st Place
2002 Brown Belt Open Weight: 2nd Place
2001 Purple Belt Middle: 1st Place
2001 Purple Belt Open Weight: 1st Place
IBJJF Pan American Championships
2004 Black Belt Medium Heavy: 1st Place
2004 Black Belt Open Weight: 1st Place
CBJJ European Championships:
2005 Black Belt Medium Heavy: 1st Place
2005 Black Belt Open Weight: 2nd Place
IBJJF Brazilian Championships
2004 Brown Belt Medium Heavy: 1st Place
BJJ World Cup:
2005 Black belt: 2nd place
2004 Black belt: 1st place
1877
Jigoro Kano, a student at the Tokyo Imperial University, begins training in jujutsu, a medieval Japanese grappling art. To defeat classically trained opponents, he begins to come up with new techniques and theories, fundamentally changing the art.
1882
Kano names his new art judo, and founds the Kodokan Judo Institute in Japan.
1895
17-year-old Mitsuyo Maeda arrives in Tokyo to study judo at the Kodokan.
1904
Judo starts to garner attention outside Japan. The United States requests that the Kodokan send judo instructors to America; Maeda and two others go.
1908 to 1914
Maeda travels around Europe, Central and South America competing as a judoka.
1915
Maeda remains in Brazil, accepting challengers from various other arts. His popularity in the country booms.
1917
After a stint abroad, Maeda returns to Brazil, which he has come to see as home. He marries a Brazilian woman and makes a home in Belem do Para.
1917
Carlos Gracie, age 14, watches one of Maeda's demonstrations and is inspired to learn judo. For the next few years, he studied directly under Maeda. Carlos also began to teach his younger brothers the art. One brother, Helio, is a small, sickly child who adapts many of the techniques to rely on leverage more than strength.
1925
Carlos opens his own academy. He has continued to develop his skills, somewhat departing from Maeda's original teachings. The resulting art is called Brazilian jiu-jitsu. Carlos and Helio reign supreme in the competitive fighting world for many years.
1976 to Present
Carlos then passed the Gentle Art through the lineage first to Reyson Gracie, who then passed it to Osvaldo Alves, to Henrique Machado, and then lastly to Ronaldo Souza, Jacaré, You are next!